Determining just how many business-to-business (B2B) organizations are implementing an account-based marketing (ABM) strategy is difficult. In fact, data points on adoption are all over the map, especially since many of the surveys about the topic are commissioned by ABM vendors.
Those are just some of the conclusions from eMarketer's new report, "Account-Based Marketing 2017: An Introduction for B2B Marketers." (The report is available here.)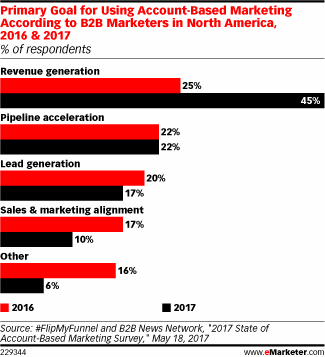 In addition to having an interest in promoting ABM, these surveys may also have a respondent pool that consists of more advanced, first-adopter types, compared with the general B2B marketer population. Further, many studies ask about ABM strategies, while others are only focused on ABM technology—two related but distinct topics.
For instance, according to 2017 research from #FlipMyFunnel and B2B News Network, 81% of B2B marketers in North America say they currently use ABM.
Other surveys conclude that although a minority have implemented an ABM approach so far, a bigger percentage of respondents intend to use it in the immediate future. For example, Dun & Bradstreet found that while 43% of US B2B marketers polled last September said they use ABM as a data-driven advertising and marketing tactic, another 30% were planning to adopt the practice in 2017.
More recent findings from Econsultancy and Act-On show that while just 20% of global B2B marketers polled in May 2017 reported using ABM as a marketing automation method, another 53% had plans to use it soon.
However, two other studies reveal more conservative figures: A Q4 2016 Marketo survey found that just 34% of marketers in North America said they have adopted ABM; a March 2017 Leadspace survey, commissioned by the Martech Industry Council, found only 25.5% of US B2B marketers using ABM as a marketing technology.
How are you using ABM? To learn more, contact Lori at 877.447.0134 or lberson@bersondeanstevens.com.