There's no doubt that analytics solutions are critical for a business' success, but the complexity and rigidity of analytics offerings are major challenges for many, according to behavioral analytics provider Interana.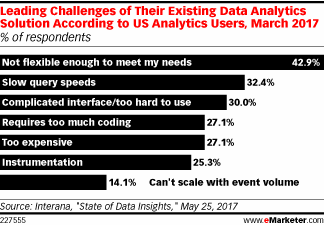 Almost a third of US analytics users (30.0%) surveyed in March 2017 said their analytics technology is too hard to use, citing complicated interfaces. 27.1% also said that the tools require too much coding—another indication of the complexity of these solutions.
62% of respondents said that while employees throughout the organization understand the importance of data, only a few have the tools and knowledge needed to make data-informed decisions. Just 25% said everyone is equipped with the right tools and knowledge.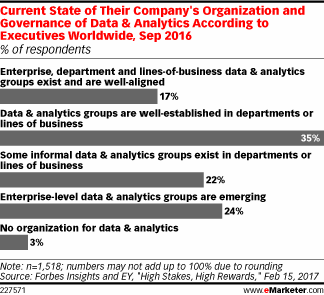 These findings echo a February 2017 report from Forbes Insights and EY, which points to a broader organizational challenge when it comes to operationalizing analytics. The study found that a relatively small fraction of organizations has mature data and analytics groups at different company levels.
Only 17% of executives worldwide from various industries said these groups exist and are well-aligned.
Struggling with your data analytics? For help, contact Lori at 877.447.0134 or info@BersonDeanStevens.com.