Social media is providing marketers with an ever-growing litany of media options beyond just display advertising. But which are the most important?
A study from The Creative Group polled 400 US advertising and marketing executives, to learn which social media trends they expected to have the greatest effect on their advertising and marketing efforts in 2018.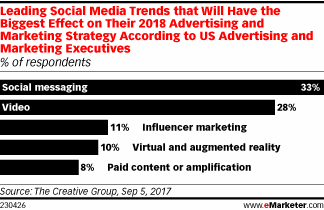 Many marketers are looking at social messaging and video.
One-third of ad and marketing execs said social messaging would sway their efforts in 2018, making it the top choice among survey respondents.
Video was another trend that many respondents said would play a role in their marketing strategies next year, named by 28% of respondents—an unsurprising outcome.
Influencer marketing, which continues to draw a lot of press attention, was expected to have a large effect by just 11% of respondents. Meanwhile, only 10% thought virtual and augmented reality were sure to affect social marketing strategies.
A separate study by gen.video and Geometry Global, conducted in March and April 2017, found that nine in ten social network users are influenced to make a purchase after seeing content on social media. And video has the greatest influence of all content types.
Looking to gain a higher return on your 2018 marketing initiatives? Contact Lori at 877.447.0134 or lberson@BersonDeanStevens.com to learn more.