More than half of US small-business owners anticipate increasing their social media budgets in 2017, according to a recent study by InfusionSoft. When small businesses (SMBs) were asked about the marketing channels they expect to increase spending on, 56% planned to up their social media budget, while a third planned to dedicate more resources to digital advertising and search engine optimization (SEO). One in four said they would increase their budget for email marketing.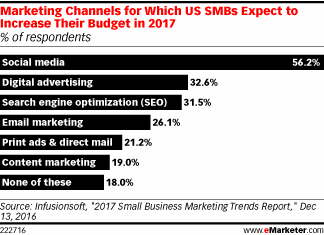 The majority of SMBs already use at least one social media channel on a regular basis. Facebook is the most commonly used platform, cited by 72% of survey respondents, followed by Twitter (36.5%) and Instagram (33.1%).
Facebook is also the top social media channel where SMBs are expected to up their spending this year. A December 2016 BIA/Kelsey report asked US SMBs about social channels where they plan to spend more, and found that advertising and video on Facebook will see the biggest increases over the next 12 months.
Social media marketing is already one of the most common marketing tactics used by US SMBs—just behind using a website and email for marketing purposes—according to a November 2016 survey from Wasp Barcode Technologies. However, these tools are still only implemented by about half of small businesses.
Are you increasing your marketing budget in 2017?
To learn how to achieve the highest return on your marketing spend, contact Lori at 877.447.0134 or info@BersonDeanStevens.com.