Marketers to Boost Influencer Budgets in 2017
According to November 2016 research conducted by Linqia, nearly half of marketers in the US plan to ramp up their budget for influencer-focused campaigns. Brand marketers are eager to partner with influencers, particularly to attract millennials.
The typical influencer-marketing spend is between $25,000 to $50,000 per campaign this year. The number is likely to double to $50,000 to $100,000 per program in 2017, as 48 percent plan to increase their influencer-marketing budgets next year.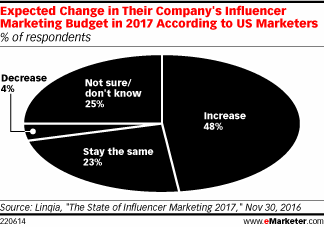 Influencer marketing appeals to marketers as a way to circumvent ad blocking. eMarketer forecasts that in 2017, more than one in four internet users will employ ad blocking software.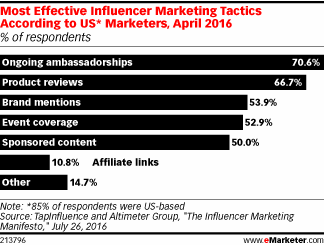 Why marketers work with influencers:
Top 10 influencer tech platforms:
As influencer-backed work continues to grow in popularity for marketers, various tactics have proven more effective than others. In a related study from TapInfluence and Altimeter Group, nearly three-quarters of marketers said ongoing ambassadorships was one of the most effective uses of influencers, ahead of product reviews and brand mentions.
Are you using influencer marketing to boost revenue?
To learn more, contact Lori at 877.447.0134 or info@BersonDeanStevens.com.