Longer Headlines are Better for Branded Content
More characters and more words mean more clicks.
When writing headlines for branded content, longer is better.
Branded content technology provider Polar analyzed data provided by premium publishers, such as Oath and Gannett, to see how a variation in headlines affected key performance indicators (KPIs).
It turned out, branded content headlines between 90 and 99 characters achieved a clickthrough rate (CTR) of 0.43%, higher than headlines with fewer characters.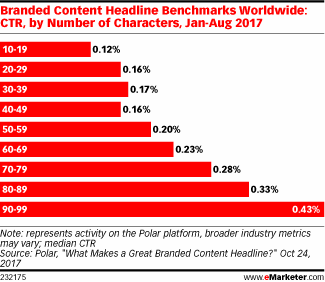 The "more is better" theory is also true for the number of words included in a headline. Polar reported that headlines with 16 words garnered a CTR of 0.33%. By comparison, headlines with just four words recorded an average CTR of less than half that, at just 0.14%.
Some other tips Polar gleaned from its work: numbers and special characters also resulted in a bump in CTRs. So don't hesitate to add an ampersand in there.
Content marketers in North America are increasingly relying on a variety of technologies beyond email, according to recent research from the Content Marketing Institute (CMI).
In a poll conducted in February, the organization found that 57% of respondents used a content management system (CMS), while nearly one in five (18%) had turned to some type of content optimization software.
Find out how to increase the performance of your content. Contact Lori at 877.447.0134 or info@BersonDeanStevens.com.