Event technologies can bridge online and offline marketing initiatives.
Events and in-person meetings have always been a great way for businesses to effectively reach and communicate with clients and prospects.
"Even with the rise of more measureable digital marketing tactics, in-person events continue to be a major avenue for building relationships, influencing attendees and sharing industry thought leadership," said eMarketer analyst Jillian Ryan and author of the new report "B2B Event Marketing 2017: How the Event Stack Bridges Offline and Online."
For events to retain the prominent place they have in marketers' toolkits, they need to bridge the offline/online disconnect. Data-driven intelligence can help show how these offline interactions affect the path to purchase, while an event technology stack can bridge that divide.
Understanding how a face-to-face event is performing compared with digital channels can be very challenging for companies because of the disconnect between these channels. Events need to be part of a greater strategy that includes digital.
Companies that organize their events across the buying cycle tend to have the greatest success in closing the disconnect between offline and online touch-points. The customer or prospect relationship is online and offline and events cover both worlds.
Before recent innovations, marketers typically had to use Excel spreadsheets or something similar to organize their event data.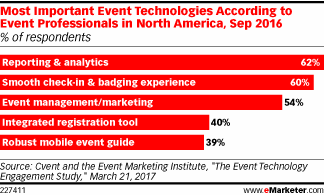 A typical event stack includes other assorted tools, such as an event mobile app, a CMS for the event website, on-site engagement tracking tools, networking capabilities, registration software, attendance scanners with RFID, beacons and perhaps even real-time polling systems. Then a suite of analytics is required to analyze data from all of these pieces and gain insights that the marketer can understand.
Reporting and analytics were named as one of the most important event technologies by 62% of the event professionals in North America surveyed by Cvent and the Event Marketing Institute. Nearly as many—six in 10—named a smooth check-in and badging experience, while 54% cited event management and marketing.
Regarding adoption, just less than half of US marketing decision-makers used event management and automation software to manage in-person events, according to the April 2017 Certain survey. Some 43% of respondents said they utilized a mobile app, and 30.5% used lead capture.
Six in 10 event professionals polled by Cvent and the Event Marketing Institute said the ability to capture data is the most important criterion when selecting an event technology service provider.
Looking for help marketing and managing your events? Contact Lori at 877.447.0134 or info@bersondeanstevens.com.